Jenny Pox - and this is an honest review
I really had high hopes for this book. It sounded great from the synopsis. It turned out I was to be proved wrong. Or at least in my mind. I know lots of people liked it, but overall, this book really wasn't for me! And I'll tell you why!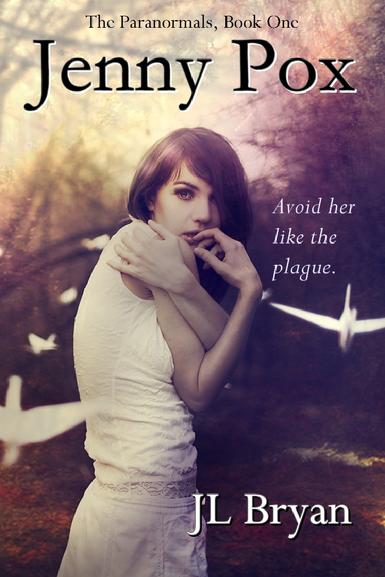 Synopsis:

Eighteen-year-old Jenny Morton has a horrific secret: her touch spreads a deadly supernatural plague, the "Jenny pox." She lives by a single rule: Never touch anyone. A lifetime of avoiding any physical contact with others has made her isolated and painfully lonely in her small rural town.
Then she meets the one boy she can touch. Jenny feels herself falling for Seth...but if she's going to be with him, Jenny must learn to use the deadly pox inside her to confront his ruthless and manipulative girlfriend Ashleigh, who secretly wields the most dangerous power of all.
Oh my, where to start here. Apart from the writing style, that took a lot of getting used to and I still didn't really like it, the story was simply bizarre.
People that know me know that usually I'm giving books really high ratings, so for me to give a book one star, there really was something wrong for me with that book.
Okay, first things first: Jenny seems to be a likeable girl, no matter how secluded she lives because of her "Jenny Pox". You get the image of a good girl that always lives by the rules and never really does anything wrong. She stays out of the way most of the time, not really getting in contact with anyone because of her ability to bring illness to all people she touches. But that's about all we find out about her. There is not much else we find out about her, which is one of my major minus points of this book. It lacked depth. The characters weren't all thought out, you didn't get an in depth picture of them and all you knew about them was what was happening in the story. There was not a lot of background, which made it really hard to connect to the the characters. And I don't mean just Jenny, but also Seth and Ashleigh, the other two main characters in this book. I couldn't connect with them and just didn't GET them, seriously.
My prime example for that is the fact that Jenny, like I said, seems to be that good girl, always trying to do right by everyone. And then all of the sudden she takes out a joint and smokes it. It doesn't go together at all. When I read that all I could think of was: why would you have her do that? It doesn't do the story good and doesn't bring it further, so why make her a girl with a drug problem when she doesn't really have any.
Also, sometimes it was also just macabre. The one scene that stuck to me was when Seth is REALLY injured, in and out of consciousness, and Jenny had to get him out of his clothes. Then he's naked, she sees his private parts and....smiles.....I mean, that guy is half death, lying on her bed and she sees his private parts and smiles?? I had no idea what to think of that, other than that in a situation like that, maybe another reaction might've been a bit more real.
But you think that's weird: The end just killed it for me. I mean, it was a massacre in the end and that just made the less sense in all of this senseless world. And I don't mean that figuratively, I meant the actual word massacre.
I read other people refer to this as "Carrie"-like, and that might just be right, but I wasn't expecting that, and that just didn't work for me as at. Might be my fault for having wrong expectations of this book, but I just couldn't make it work for me. I had a hard time finishing it, but there was always a part of me that hoped the book would get better, but then again, the end...well you read what I think about the end...
I think everyone should give every book a chance, and maybe this book is right up your alley, it just wasn't in mine.