Deeper Than Midnight (Midnight Breeds #) by Lara Adrian *Spoiler Alert*
Okay, when I started this book I was like:
I liked neither Corinne very much nor did I like Hunter, so basically I was rather interested to see where Lara Adrian would take this whole book. And I can already say that , even though I usually try to not dissect all things happening in the book, I will do it this time simply because so much happened that made me sit on the edge of my seat all the time. But for now let's start with the synopsis:
DELIVERED FROM THE DARKNESS, A WOMAN FINDS HERSELF PLUNGED INTO A PASSION THAT IS DEEPER THAN MIDNIGHT.
At eighteen, Corinne Bishop was a beautiful, spirited young woman living a life of privilege as the adopted daughter of a wealthy family. Her world changed in an instant when she was stolen away and held prisoner by the malevolent vampire Dragos. After many years of captivity and torment, Corinne is rescued by the Order, a cadre of vampire warriors embroiled in a war against Dragos and his followers. Her innocence taken, Corinne has lost a piece of her heart as well--the one thing that gave her hope during her imprisonment, and the only thing that matters to her now that she is free.
Assigned to safeguard Corinne on her trip home is a formidable golden-eyed Breed male called Hunter. Once Dragos's most deadly assassin, Hunter now works for the Order, and he's hell-bent on making Dragos pay for his manifold sins. Bonded to Corinne by their mutual desire, Hunter will have to decide how far he'll go to end Dragos's reign of evil--even if carrying out his mission means shattering Corinne's tender heart.
Okay, so Hunter bringing her away actually was unexpected and totally to my liking. Knowing where those two were headed of course made me go all:
No matter if I like the couple or not, I know Lara still makes the story around it just great! And truly, I loved it, especially the way we see Hunter and Corinne kiss in a little New Orleans bar for their very first time. I really enjoed reading how Hunter step by step comes to feel a lot of things he never thought he'd feel. And the scenes between those two were just so hot because even though it was for both of them their first time it was incredibly hot and sweet...
Corinne not telling Hunter about her son though was a twist I didn't like at all. I mean, I don't know why she'd keep that from Hunter, especially considering the fact that Hunter thought Nathan was her lover... Poor boy.
And ( I know I'm jumping around storywise, but I just remembered...) I was more than just a little sorry for Corinne by the way her adoptive father had betrayed her. I totally loved that the security guard stood up for her adoptive mother when the need arose, not making Hunter regret that he had let the low life live.
Then, I have to say, the moment Lucan, Tegan and Gideon stood at the compound, needing to destroy it: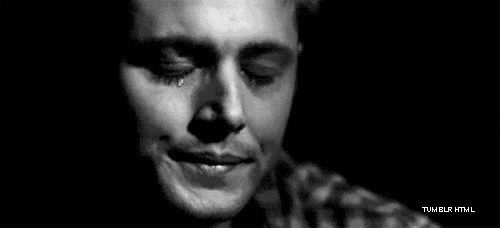 That was so incredibly sad. I mean, of course it's just a building, but all the memories, all the things that happened between these walls... It made me cry. It was perfectly written and just so terrible... An epic scene, definitely.
And now for the biggest WTF?! in that book. Chase. I mean, everything that happened with him and around him. When I started to read the book and realized he was already deep in shit and still had almost two books to go until he was good again I was like:
I seriously thought that this could not be happening... Hiding from his friends, knowing he has gone off the deep and and not wanting the help because he was ashamed... Oh man, I really have to say that this was the worst thing ever. Even though he tried to do the right thing and not bother the order without having hard facts, it wasn't really his fault things ended so badly. I felt so so bad for him and I am so glad that Chase's book is finally here.
All in all I can say that Lara Adrian wrote such an amazing book, it kept me breathless and reading even if I only had five seconds to read. I couldn't stop, not once, but when I closed the book I was feeling satisfied and very happy simply because I know there was more awesomeness to get where this book came from.
Thank you for your attention!
(Pictures all found on google and not owned by me.)