Divergent (Divergent #1) By Veronica Roth
Okay, so I have to say that this is my second time reading this book. Now I know that this is NOT something special, a lot of people read their favorites two times and more, but for me it IS special because I usually don't pick up books again that I didn't like.
So, back then I got Divergent from a friend, telling me it's the most amazing book ever and I'd love Four more than I love Jace from Mortal Instruments (Hell, that is NOT possible.) and so I picked up the book expecting a lot... And was utterly and totally disappointed. So much, I never read book two, which I got right along with book one from her.
Now I had another friend suggest I could try it again, or rather encouraging me to try it again because I might realize I like it better the second time around.
So I did. And here's what I think now: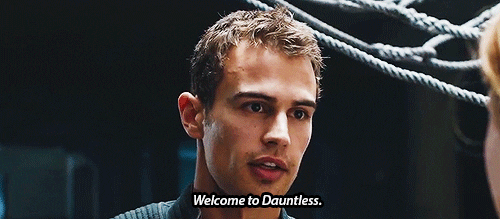 That's where I wanna be. Even though I had read the book before, I remembered barely ANYTHING from it. And the little pieces I did remember might as well have come from the trailer for the movie. I didn't see the movie and I don't plan to anytime soon, but I have to say that it does look good.
In this book there are a lot of powerful scenes and topics, like faction before blood. I know that a lot of people think that family always comes first, but what if your family simply isn't a thing you want to keep because you were treated cruely? Or because you feel you never belonged there?
In this dystopian novel you will find the world split into five factions that supposedly push the five qualities in humans that you need to live a peaceful life. Tris, never fully happy in her own fraction, changes her belonging from selfless to brave and boy, is that a girl I love. She struggles with a lot of decisions that she makes, no matter if they were right or wrong, which makes her human and absolutely real.
And, addiotnally, Tris gets Four. I mean, he gets him as in fully understands him and she gets him as in she gets to kiss that hot, fearless, sexy dude.
So, basically I can say that I read a few novels about the same topic: humanity ruined itself and there needs to be a new world order... I like this one. I like this one a lot. Even more than Hunger Games simply because I love the mains more.
Tris is a girl like I want to be: brave, strong and still selfless to some degree. She is a great character and now, on my second time, I can't wait to get going with book two.
So my suggestion is: GO and READ Divergent! You might come to find that you'll really, truly enjoy it.
(All pictures found on google.)