The Kiss of Deception - Remnant Chronicles
"In a society steeped in tradition, Princess Lia's life follows a preordained course. As First Daughter, she is expected to have the revered gift of sight—but she doesn't—and she knows her parents are perpetrating a sham when they arrange her marriage to secure an alliance with a neighboring kingdom—to a prince she has never met.
On the morning of her wedding, Lia flees to a distant village. She settles into a new life, hopeful when two mysterious and handsome strangers arrive—and unaware that one is the jilted prince and the other an assassin sent to kill her. Deception abounds, and Lia finds herself on the brink of unlocking perilous secrets—even as she finds herself falling in love."
So let me tell you about this book! I wanted to read it ever since I read the synopsis! I wanted to do that so bad that I even paid more money than I usually pay for a book, plus took into account a 2-3 week waiting period. So you get how much I wanted to read that book! And I hoped that it would live up to all the expectations I had.
When starting the book, i quickly got into the whole story. With the terms in this kingdoms it does take a little times to get used to it, but Mary E. Pearson makes it easy to understand what she's talking about. However, the first pages of the book didn't blow me away like I hoped they would. Don't get me wrong, the story itself was still great and it made me wanna read on, but I was still missing something.
And then came my HOLY SHIT moment.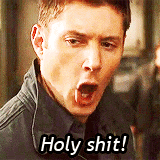 You see, as a reader you always have a specific picture in your head. Whethere it's because of a certain character or the landscape, you have a picture in your head. It's only natural, cause you go with the flow of the story and whatever picture you conjure up in your head. And that's where the holy shit moment of this book comes in. Now of course I won't tell you what it is, since I want this to stay spoiler free, but let me just tell you that the reservations I had about this book were blown to bits when I got to that part. Sections of the book that happened before now made so much more sense to me, and the lack of character depth I thought the book had was just not there....because of the way that Mary E. Pearson was writing.
So with that being said, the story was truly amazing from that point onward. I devoured that book, loved everything about it and CANNOT wait to continue with Lia's, Rafe's and Kaden's story. Believe me when I tell you it will be definite reread for me and also got me so hooked that I catch myself sneaking glimpses into the book even now that i've moved on to another book!!
The story itself is a great one as well. Lia, as a princess being forced into a marriage she doesn't want, escapes the confinements of the traditions and sets out to start a new life in a small town working as a bar maid. She wants normal, doesn't want to hear anything about royals, traditions or any magical gifts she's supposed to have. Throw in two hotties that show up at the same time, both intruiging in their own way and you KNOW it cannot end well.
Simple as that! And you should all read it! I still haven't recovered from my holy shit moment LOL
Yvi
(All images found on google.com)