Heart of Dread: Frozen - a new series by Melissa de la Cruz and Michael Johnston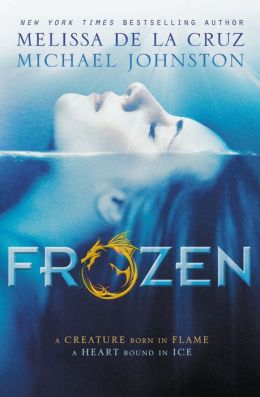 Synopsis: "

Welcome to New Vegas, a city once covered in bling, now blanketed in ice. Like much of the destroyed planet, the place knows only one temperature - freezing. But some things never change. The diamond in the ice desert is still a 24-hour hedonistic playground and nothing keeps the crowds away from the casino floors, never mind the rumors about sinister sorcery in its shadows.
At the heart of this city is Natasha Kestal, a young blackjack dealer looking for a way out. Like many, she's heard of a mythical land simply called "the Blue." They say it's a paradise, where the sun still shines and the waters are turquoise. More importantly, it's a place where Nat won't be persecuted, even if her darkest secret comes to light.
But passage to the Blue is treacherous, if not impossible, and her only shot is to bet on a ragtag crew of mercenaries led by a cocky runner named Ryan Wesson there. Danger and deceit await on every corner, even as Nat and Wes find themselves inexorably drawn to each other. But can true love survive the lies?
Fiery hearts collide in this fantastic tale of the evil men do and the awesome power within us all. This is a remarkable first book in a spellbinding new series about the dawn of a new kind of magic."
This was my first book by Melissa de la Cruz. I have other books from her on my to read list, and this book just proves that I should really get to them.
The story itself was amazing and a great new idea. A world that has been frozen, with little to no food left, is a great start for a story. People mostly feel like this:
Nat, our main character, survived the freeze and is now working in a casino in what is now New Vegas. She's one of the marked, people with special powers that are hunted by the government. She hides her true identity and lives a rather quiet life there. That is, until that voice in her head starts up again and tells her that she needs to travel away from New Vegas and go out to find the Blue, a mysterious place where things are still supposed to be unfrozen, beautiful and alive. With the help of runners, people that help citizens out of the government reach, she undertakes a journey that is laced with dangers she never even dreamt of.
Helping her is Wes, a runner that has worked for the military until his morals told him to rethink his position at the goverment. Being forced to do things he didn't want to do, he leaves and forms his own group of runners, helping others escape the brutality of their live in New Vegas. When Nat needs a runner to bring her to the Blue, he's intrigued enough to take the job and bring her across the frozen ocean.
Against their better judgement, the two start to form a bond. Forced together by their own impossible situations, they soon realise that the only way to survive is to stick together. And so the story begins....
Both characters are really likable, fighting against the odds, and also against the injustice both of them have experienced due to their different upbringing. Being a marked person was never easy for Nat, but being a "regular" like Wes isn't all cakes and flowers as well. Due to the excellent writing of Cruz and Johnston, you can't help but fall in love with those two, but also with the minor characters in the book, that aren't any less important. Shakes, Lianna and the smallman, they all show you the value of loyalty, of true friendship and of the things you are willing to do for each other to survive.
This was a truly promising story that I'm definitely gonna get the next installment off, because quite honestly, I'm already missing the bunch of people. Overall a great story, with highly likeable characters, great and intense writing that just sucks you right into the story. Just like I want it to!!!
PS: all pics found on Google