**** RELEASE BLITZ **** - Beautifully Broken by Kira Adams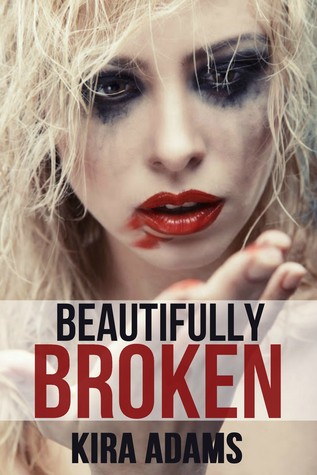 Genres: New Adult, Contemporary Romance
Jacqueline Blunt hasn't had an easy life. In fact, she's had anything but. From a drug addicted mother to being bounced around in foster care, Jacqueline longed for one thing—normalcy. Lee Bennett had everything he could ever want—girls falling all over him, a dream job, money. The one thing he was missing? Passion.



Sometimes the ones worth fighting for don't know their worth. Sometimes being broken is beautiful. This is a story of strength, courage, hope, faith, and love. This is Beautifully Broken.
Only 99 pennies during the blitz!
CHOOSE ONLY ONE PLEASE.
Excerpt
"You're insane," Lee said again, only this time it was in a low whisper.
I tore my eyes off the road to meet his, watching as mischief and mystery danced across them. I might have been hallucinating, but I think I also saw Lee turned on. He kept biting his lip, and running his hand over his fuzzy shaved head.
"Pull over."
"What?" I asked, puzzled as to what his motives were.
"Pull over," he repeated in the exact same tone and I kid you not—I had never been more turned on in my life.
Before I knew it, I had taken his advice and we were parked outside a local park I used to frequent. It was late, around eight at night and it was dark; not pitch dark though. There were no patrons around. I put the car in park and was sure my heartbeat could be heard across the world.
Lee unbuckled his seatbelt when I parked and shifted in his seat to face me. "I'm not going to kiss you again until you ask for it."
I looked at him, my jaw down to my knees. "What makes you think I would let you kiss me again?" It was all I had been fantasizing about since he had stolen the first kiss from me. It consumed my every thought. But I was not going to tell him that. I was going to remain strong.
"Oh, when I'm done with you—you're going to be begging for it," he said in the cockiest tone I had ever heard.
"Cocky much?" I asked, snidely.
"Confident," Lee responded calmly, grinning back at me.
And then I could feel his warm breath in the crook of my neck, just below my ear, dancing on my skin. My breathing became shallow, and I wondered how he knew where my spot was instantly and the crazy things it would do to me.
If his lips or tongue made their way anywhere towards my neck I was a goner for sure.
I was holding my own. My poker face had not wavered, but my madly beating heart and breathing were a dead giveaway.
"How ya doing over there?" Lee whispered in my ear.
"I'm fine, absolutely fine," I gulped out, attempting to sound confident.
That's when his lips found the bottom of my ear and he kissed it and gently sucked on it, causing me to literally bite my tongue off as I squealed with pleasure.
"What was that?" Lee asked, putting his ear to my mouth. His neck was irresistibly close and all I could smell was his intoxicating scent. A mix of his cologne and pure pheromones.
Lee backed up again and began nibbling my right ear. Was it getting hot in here? Or was it just me…
Krista Pakseresht has always been a dreamer. From the first time she opened her eyes. Creating worlds through words is one thing she is truly talented at. She specializes in Young adult/New adult romance, horror, action, fantasy, and non-fiction under the pen name Kira Adams.
She is the author of the Infinite Love series, the Foundation series, the Darkness Falls series, and the Looking Glass series.
a Rafflecopter giveaway