The Donor (Full Novella) by Nikki Rae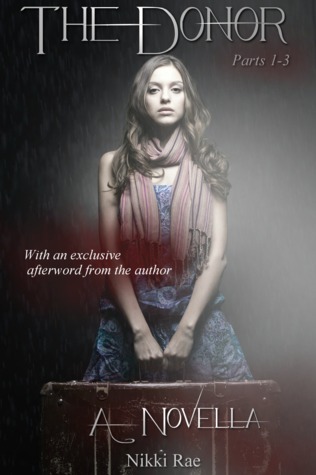 Casey Williams and her family are poor. Her parents work non-stop and so does she, just so they can keep the trailer roof from leaking.
They're getting by fine enough when the headaches start. Then there's the nosebleeds. And the inevitable doctor's bills.
Fortunately for Casey, there's MyTrueMatch.com: an exclusive, quick, and almost easy way to pay it all back before her parents even have to know.
All she has to do is give a man she's never met whatever he wants from her body.
Inside or out.
First, I wanna thank Nikki Rae for this review copy. I've been seeing her name all over and was super happy once she wrote our blog.
I had a little hard time to get into the first part. It was a little weird with the talks about pills and all, but once I finally found out what was going on, the rest of the book totally made sense. As many other reviewers stated, I like her totally new take on online dating, but still, I couldn't help but wonder about part one. Since it was a review copy and I promised I read it, I pulled through and am very glad about that because a lot of the weirdness gets lost after the explanation is dropped.
If you are a fan of mysteries this book definitely is for you. It's a quick, nice read and has a strong female lead as well as a strong male lead who proves to be a good guy no matter what impression you might have throughout the book.
You will simply have to go and read it yourself to see what this is all about. Be ready to be surprised! ;-)