Bad Romeo - Leisa Rayven
I was provided a copy from Netgalley for an honest review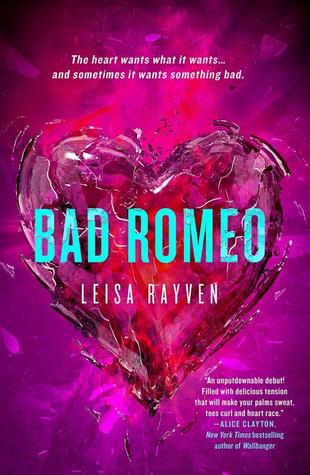 Synopsis: "

When Cassie Taylor met Ethan Holt at acting school, sparks flew. She was the good girl actress. He was the bad boy about campus. But one fated casting choice for Romeo and Juliet changed it all. Like the characters they were playing, Cassie and Ethan's romance seemed destined. Until he broke her heart and betrayed her trust. Now the A-list heartthrob is back in her life and turning her world around. One touch at a time.
Cast as romantic leads once again, they're forced to confront raw memories of the heartbreaking lows and pulse-pounding highs of their secret college affair. But they'll also discover that people who rub each other the wrong way often make the best sparks."
This story was wonderful, seriously. Cassie and Ethan...oh boy...
So first things first: This book is told in two different times, meaning we get to see how Cassie and Ethan fell in love, but also how they try to get back together after Ethan broke her trust. I loved that it was done like that, because it gave us not only the beginning of their love, but also makes us see how two people are trying to repair something that seems to have broken beyond everything.
Cassie has loved and lost Ethan once, and doesn't want to go through that again. So when they both get cast for Romeo and Juliet, things are bound to get awkward. But noone can deny their sexual attraction, not even the two of them. And if you have loved someone as deeply as Cassie has loved Ethan, there is ALWAYS gonna be love left to find. And it's a beautiful thing to watch. Seeing them meet, seeing how Ethan went from the prodigal bad boy to someone that Cassie could trust and love, I immensely enjoyed that.
Leisa's style of writing instantly sucked me into the story as well. With her words she created a world that not only was easy to follow, but had all the feels that you would expect it to have. It hurt reading that book, then it felt great, and then it hurt again. And I loved that, because it meant that Leisa Rayven made me care!!
I recently saw that there's gonna be more to this story, and I'm super excited to dive more into the world that's Cassie and Ethan!!
5 Book Boyfriends from me!!