Fallen Angels series by Tracie Podger - slowly falling in love
I was provided copies of each of those books for an honest review!
First of all, I should've written this review so much earlier, but as usual, life takes on a different turn. However, I finally got the time to really sit down and get everything out that makes this series so brilliant.
I won't post any synopsis this time, because let's be honest, I'm reviewing all three books, so it's hard to put a synopsis down. Let's just say for the sake of it, it's the beautiful love story of Robert and Brooke.
I will admit that I didn't fall in love with the books right away. The love took a little more time to take root, but once it did, it completely blossomed. For me mostly it was the writing style of Tracie that took some getting used to, but also I wasn't really sure where the first book was going, so this made me a little unsure of the whole story.
BUT, the more I read, the longer I was on this journey, the more attached I grew to the characters and in the end, was bawling my eyes out at quite a few times during the last book. Plus. that last sentece in book three just...wow...I mean....that was the moment where I really was crying like a baby. It was THAT perfect.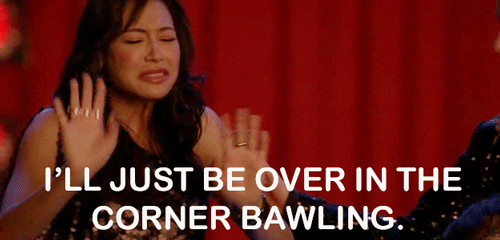 But first things first: Brooke has left England after a break-up and is visiting her best friend. It is at his work place where she meets Robert, and despite him intimidating the hell out of her, there is something about him that doesn't allow Brooke to let him go again. They embark on a journey that none of the two is expecting. There is lots of trial and error, lots of misunderstandings and yet they always manage to find their way back together. Brooke comes to realize that sometimes there are things in life that you shouldn't take for granted, and others that you have to work hard for. Robert is both of those. Slowly throughout the story so finds a way to make him see what a great person he is, despite everything that he believes about himself. And sometimes that's not pretty.
Robert is such a unpredictable character. Like I said in the beginning, I had no idea where this book was gonna go, if he was gonna end up being and actual fallen angel (I mean, come on, it's the title after all), if he's in the mafia (I read the Eagle Elite series before that, that might have rubbed up a little) or what was going on with him. And the more layers Brooke started to peel off, the more in love with him I feel. But also with their love for each other. Yes, it might be sudden and head over heels, but you can tell quickly that this is no fling, that none of the two actually want this to be a summertime love, but the real thing.
The story got better with every page. You could tell that Tracie also progressed as a writer and storyteller, and I loved seeing that. I loved being part of this amazing story, because besides Robert and Brooke, I also fell in love with all the side characters. They are a beautiful addition to the main story and make this so much more enjoyable.
Especially in the last book, my emotions were all over the place. The last part is such a heartfelt and heartbreaking one that I just had to blink away tears more than usually. It made me hope and beg Tracie to finish this story in a way where I don't have to go and rock in the corner! And like I said, the last sentence brought me to my knees, simply because of how beautifully perfect it was.
So, while it took me a little bit to get into this story, it is a beautiful story of finding love, finding things that it's worth sacrificing yourself for, and finding that one person that makes your life complete.
THANK YOU, Tracie Podger, for this story, for bringing those characters to life and for making me fall in love with them!!! I don't regret any single step I took on the way!!!