Lori Foster's MMA series "Ultimate" Love this!!! No Limits and Holding Strong
"Cannon Colter is quintessential hero material: chiseled jawline, shredded body—the works. He's also the guy who rescued Yvette Sweeny from kidnappers, only to put an end to her romantic dreams. These days, she's older, smarter, determined to face whatever life throws her way. Even the prospect of sharing a house and business with Cannon.
Cannon knew Yvette wanted him three years ago. But she was young—and some things are worth waiting for. Thrown together by her grandfather's legacy, he realizes how deep Yvette's scars really go, and how much danger lurks in their quiet town. As pent-up desire explodes between them, protecting her becomes the only fight that matters. And he'll break all the rules to do it…"
I've actually read this book after finishing my ARC of Holding Strong, but I have to say that I devoured this book. The thing about Lori Foster's writing is that she creates such a close emotional connection between the reader and the main characters that you fall in love with them in no less than five pages.
This was a great start novel for the Ultimate series. I love MMA novels in general, and Lori Foster manages to combine a romance with a side of thriller and fighting. I LOVED it.
Both, Cannon and Yvette are highly likeable characters who have been together through a lot. They formed a bond years ago through a destintive event that shaped both of them, and when they are thrown together again years later, the tension that was there years ago hasn't lessened one bit. Sparks are flying everywhere, and it's amazing to watch those two still try to fight it while at the same time wanting nothing else than to give in the pent up desire. Both are fighters, loyal to a fault and will fight for what they want, even if they don't know yet what that is. They are amazing characters that you can only look up to.
But despite their tries to reconnect, their open desire for each other is not the only thing they have to deal with. Omnious attacks threaten to take away whatever happiness they might have found in each other. And that's one thing I truly love about Foster's books! The mystery angle. There's always a crime section in her novels that I absolutely adore and that in combination with the sexual tension (believe me, there is a lot) and the views of MMA friendships we get here makes this book a seriously hot combination. One I couldn't put down and finished in merely a day.
5 book-boyfriends for this one!!
I was lucky enough to receive an ARC copy of "Holding Strong"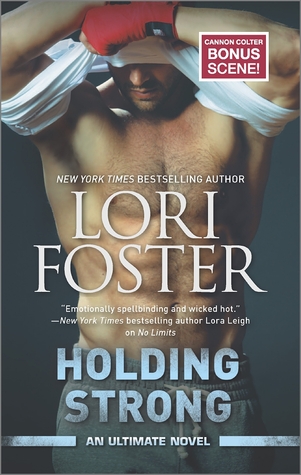 "An up-and-coming MMA fighter wants more than just one night from a woman fleeing her past in New York Times bestselling author Lori Foster's irresistible new novel
Heavyweight fighter Denver Lewis plays real nice, but he doesn't share. That's why he's been avoiding top-notch flirt Cherry Peyton. But a man can only resist those lush curves for so long. Their encounter surpasses all his fantasies, bringing out protective urges that Cherry's about to need more than she knows…
Denver's combination of pure muscle and unexpected tenderness has been driving Cherry wild. Yet no sooner does she get what she's been craving than old troubles show up on her doorstep. And this time, Cherry can't hide behind a carefree facade. Because the man by her side is one who'll fight like hell to keep her safe…if only she'll trust him enough to let him…"
I actually changed my rating for this book after reading book one. Why? Because in the end I realized the one thing that made me give it four stars was written towards in book one, so after reading book one, I changed the rating again.
Denver and Cherry are amazing together. When reading the book I wondered where the story was gonna go because both find their way to each other rather quickly, but the story develops into so much more than their relationship.
Denver has always liked Cherry from afar, and vice versa, so when they both take the plunge into being together, things couldn't be better. Or so you would think. But this wouldn't be a Lori Foster book if that was the case. Their relationship has ups and downs, as is usual for a relationship, and while you have heart-breaking moments, you also have the swoon-worthy, where-can-i-get-a-guy-like-that-moments as well that will make you fall in love as well!
I loved the story line Foster brought in with Cherry. It was different and had such a great suspense angle that really kept me glued to the book. You really will wanna know how it ends.
Another thing I truly loved about this second book is the closer look we got at the friendships between the different MMA guys. You've already seen that in book one, but I think in book two it just takes it to another level. They are loyal to a fault and would do anything for each other, and that's such a heart-warming thing to see, and one of the main reason I loved this book. Plus, it makes you HIGHLY excited for the next books in the series! They are being released tomorrow, right??
I have always loved Lori Foster's books, and this one was no different. I feel privileged to have been able to read an ARC copy of this, so thank you again!!! This is an amazing story and you all should go and read it NOW!!!