"Pocketful of Sand" by Michelle Leighton - a dream read, seriously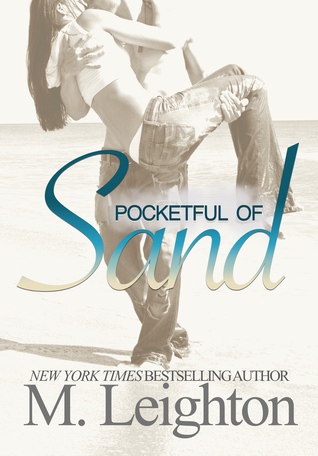 I was lucky enough to receive an ARC copy of this book! THANK YOU!!!!!!
Synopsis: "She's beauty for my ashes. And I'm hope for her heartache."—Cole Danzer.
I don't know what makes a great love story. Is it that instant attraction when boy meets girl? The passionate kisses and the fairy-tale ending? Or is it a lifetime of tragedy, paid in advance, for a few stolen moments of pure bliss? The pain and the suffering that, in the end, you can say are worth it for having found the missing piece of your soul?
The answer is: I don't know. I don't know what makes a great love story. I only know what makes my love story. I only know that finding Cole when I did, when Emmy and I were running from a nightmare, was the only thing that saved me. That saved us. He was more broken than I was, but somehow we took each other's shattered pieces and made a whole. If
that
is what makes a great love story, if
that
is what makes an epic romance, then mine…
ours
is the greatest of them all.
**Contains material that some may find disturbing. Not intended for readers under the age of 18**
This was such a beautiful piece of art, a great story to dive into and a perfect way to spend your time lost in a book.
I've read a few of M. Leighton's books so far, and loved them all. So when I had the chance to read Pocketful of Sand, I was super excited, and definitely not disappointed.
We get to see Cole and Eden, and it becomes obvious pretty early on that both are dealing with issues of their past. None of them too pretty. From the first moment on, the attraction is there, and while they both are trying hard to fight it, it's something neither one can control. One of the main factors here is Eden's daughter Emmy, who's the cutest thing overall. I fell in love with her the first minute she stepped on the scene, and she's just the most adorable and cute kid you could imagine.
While Cole and Eden try to fight their own demons and attraction to each other, they take the reader on an emotional rollercoaster that had me holding my breath more than once. This story isn't for the faint-hearted, and I'm not talking about blood and violence, but heartbreak and hurt so bad that it leaves you hurting yourself. But in a good way somehow.
This book brings out all the emotions in you as a reader: I was happy, sad, hurting, heartbroken and relieved. All in the course of those pages. And I loved every single moment of it, because it took you on a ride that didn't let you go anymore. And you didn't want to get off in the first place.
Cole and Eden are highly likeable characters, that are just so real that you feel with them every way. Michelle's way of writing draws you in and sucks you in so deep that you can't get out anymore until you have gotten to the last page of the book.
The end was the best, hands down. Simple as that. Enough said.
In case you didn't get it so far: I loved this book. I loved it so much and would recommend it to everyone who is looking for an amazing romance that will leave you wanting more.
PS: Chris Hemsworth is the muse for Cole. I mean, come on, it doesn't get hotter than that!!!!!!