21 Stolen Kisses by Lauren Blakely - NEW REVIEW
Thank you to the publisher and Netgalley for my ARC copy of this book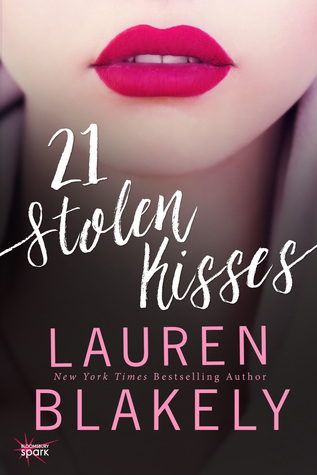 Synopsis:
"
When I first met him I resisted.
Like any forbidden love, I told myself he was a crush, and it would pass.
That was a lie. It never faded.
And I never expected he would fall for me just as hard.
There were so many reasons that should have kept us apart, least of all, the decade that separated us. Growing up in New York City, I learned early on that love is a double-edged sword. Love broke up my parents, love took away my friends, and love — the big, intense, never-been-like-this-before love — landed me in therapy. Now I'm heading to college, and it's time to give love a clean slate again. But, can I really start over when he's still in my life Because the one man I've always wanted, is also the only guy I absolutely can't have…And he wants me just as fiercely.
Can I settle for anything less than the love of my life?"
This was my first Lauren Blakely book, and I was super excited to be getting this as an early copy.
Overall, after reading this, it was a good book for me. It sadly wasn't the overwhelming story that I hoped for, but it was a really nice and heartwarming and yet heart-crushing story to get through.
Noah I absolutely loved! From the minute we met him I just was over the moon for him. Not because of what he did, but the way his POV portrayed him made me just like him so much, his personality and the things he was willing to go through for just a sliver of hope at love. I loved that, I seriously did.
I had more problems with Kennedy at times, simply because there were moments where I thought she was acting a little childish to me. However, overall she did get to be the person I hoped she would be, fighting and standing up for the things she believed in. I truly believe that the way she grew up shaped her to be the person she is, and I'm glad to see that not all of her mother's traits have gotten inside Kennedy's body. She has her heart in the right place and knows what she wants, and most of all, doesn't want in life. And we've all been there!
The story itself is a great read for a nice summer evening. I can imagine myself sitting in a nice little hammock and reading that story, letting myself get lost in the story itself to escape the reality of life (not that I don't love my life, cause I do).
So again, this is a nice and good book that will easily keep you occupied for the time and definitely have you fall in love with Noah Hayes <3