A Court of Thornes and Roses by Sarah J. Maas - AMAZING start in a new series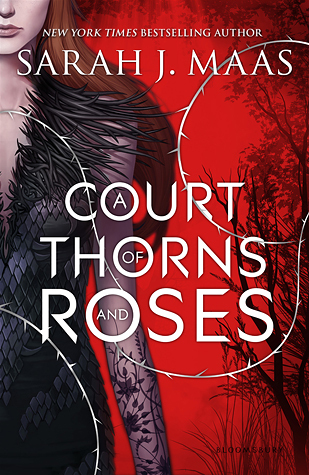 "When nineteen-year-old huntress Feyre kills a wolf in the woods, a beast-like creature arrives to demand retribution for it. Dragged to a treacherous magical land she only knows about from legends, Feyre discovers that her captor is not an animal, but Tamlin—one of the lethal, immortal faeries who once ruled their world.
As she dwells on his estate, her feelings for Tamlin transform from icy hostility into a fiery passion that burns through every lie and warning she's been told about the beautiful, dangerous world of the Fae. But an ancient, wicked shadow grows over the faerie lands, and Feyre must find a way to stop it . . . or doom Tamlin—and his world—forever."
I was super excited to get my hands on this book.
First of all, Beauty and the Beast is my all time favorite Disney Princess movie, and secondly I love everything that Sarah J. Maas puts on paper. So needless to say my hopes for this book were really high.
While the beginning might seem a little slow, it is exactly the right way to set the mood for the book. We get to know Feyre and the world she lives in, getting introduced to the supposed good and bad guys in this story. I love the worlds that Sarah J. Maas creates, because it takes you away to those faraway lands that you can only dream of.
As the story unfolds, you see the resemblance to the Beauty and the Beast story, but that never takes away from the reading pleasure. She has a way of making it seem like one story but writing it in such a unique way that it's a completely new story in its own. At no point in this book did I feel that this book was copying Beauty and the Beast to the ladder, which I was a little worried about. Simply put, it's an amazingly unique story that I just dived right into and didn't want to get out anymore. Not at all. Maas' writing sucks you into the story and you don't wanna put the book down until you've gotten to the very end. And I dreaded the end, cause I've read her work and know that cliffhangers are something she loves. Still, I devoured the book and will definitely reread it before the next one is released.
As for the characters in this book: I love Feyre, I really do. While I had my moments where I wasn't sure what she was getting at, overall she's a strong person that would do anything for the people she loves, no matter the danger to her own person.
And I admire that in a character. While she has been brought up a certain way, when she meets Tamlin (ohhhhh, Tamlin), she is still willing to accept that maybe things aren't the way she had been taught. And whenever she and Tamlin get together? Oh boy....
Okay, let me get to Tamlin, because that's who I really wanna talk about: I LOOOOOVED him. Don't get me wrong, I'm a completely Chaol girl, through and through, and will still love him until the day I die, but Tamlin...oh my, Tamlin! He's just amazing as well. Great, hot, sexy, brooding....
I could go on and on about him. But definitely another one to add to my long book boyfriend list. Even when capturing Feyre, he never tries to make her feel like a prisoner, going out of his way to make her feel comfortable. And so slowly things start to unfold, and we see that the hard exterior he shows doesn't necessarily represent what his heart is feeling inside.
Another thing that is different in this book than the Throne of Glass series is the sexual tension. And there were scenes where that was just off the charts. And I LOVED those, seriously did. They were amazing, and I wanted more of those. So much more! The chemistry that Tamlin and Feyre have was just beyond anything and just...oh man, I loved that Sarah J. Maas put those scenes in the book! Made it so much more great!!!
Okay, so last but not least, GET THE FREAKING BOOK!!!! I promise you, you won't be disappointed and will love it hopefully as much as I did!
5-definite-book-boyfriends