"Always Yours, Baby" by Airicka Phoenix - this woman does it again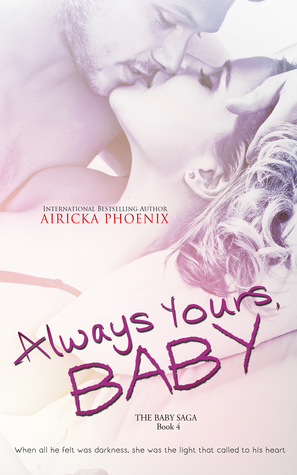 "How could someone so pure want filth like him?
Damon Comb was no stranger to pain, hunger, loneliness, and abandonment. Being given a family that would die for one another didn't erase six years of torture. It didn't take away the nightmares. She did. She was everything someone like him should never be allowed. She was goodness and strength and she made him human.
How could someone so broken complete her?
Willa McClain had it all, a family that adored each other, the love of an entire town and a future she worked her butt off to get. But all she wanted was the boy with the sad blue eyes and the crooked smile. He was her best friend, her protector and the only one who really understood her.
How could a love like theirs be extinguished?
But nothing ever lasted forever. Damon knew better than anyone how quickly the tides could change. Can he keep his past at bay before it consumes the only light in his dark world? Can he finally tell Willa the truth, or will his fears tear them apart forever?
How could love so strong ever fail?"
So I've had the pleasure of reading every single one of the books in this series. And no matter what, Airicka Phoenix just manages to pull at yall your heart strings, makes you want to jump bones and just pulls you through the ringer. This book was no different.
Willa and Damon are meant to be together. There was no doubt in mind early on that that's what is gonna happen. The question was just how it all came to be. And boy did Airicka make this book as exciting and sweet as they go.
I remember messaging her half way through and telling her that his book is amazingly sweet. Damon is just everything you would want your boyfriend to be. Attentive, caring, basically reads every wish from your lips and does everything to make you happy. He's simply said: PERFECT! And I loved that. I loved seeing that there is a guy out there that's no bad boy with a soft heart, but simply a great guy with a heart just as big. Excuse me while I go fan myself.
So Damon is perfect, but Willa isn't any different. They have loved each other from early on in their lives and would basically do everything for one another. Willa cares deeply for Damon and always tries to show him that despite the first years of his life having been anything but perfect, that this doesn't define who he is a s aperson.
The characters in Airicka's books are so easy to connect to. It doesn't take more than one or two pages and you are so emotionally attached to them that you don't want them to hurt, because if they do, so do you. It's a gift for an author to be able to do that, and every single book that I've read from Airicka has been like that! Which is why I always beg her for ARC copies, cause waiting for the next one always seems exceptionally cruel LOL
AS far as the story goes: It definitely doesn't only have the sweet factor in it. There are some nasty bits in there, bits where you wanna throw something at the wall or get violent at some people, but that's what makes it so awesome, that feeling. The story grips you and doesn't let you go again AT ALL. You need to read on and need to know how it ends...working in between was HARD, let me tell you!!
So, one more book in this series and I already can't wait! Is it coming out tomorrow? I sure hope so. Right Airicka??
So without further ado, this book gets five book-boyfriends without any questions!!