Sweet On Wilde by Fabiola Francisco
I was lucky enough to receive an ARC from the wonderful Fabiola in exchange for an honest review!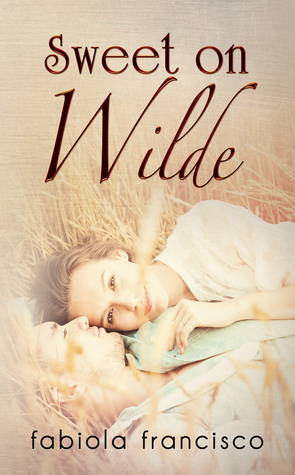 "Eight months ago, I made a deal with my best friend. This wasn't your typical pact. No, we had to take a different route. The deal was that if we were still single by fall, we would join online dating. Yes…now I am that girl. Just me, though, because she met a guy and saved herself from the awkwardness of dating people you meet via the Internet.
Cheesy pick up lines.
Inappropriate messages.
Disaster dates.
I don't want to be "Savannah, profile 8713," but a pinky promise is a promise you keep. What I wasn't counting on was meeting a guy at the local bar.
So what happens when you decide to open yourself up to new opportunities? You might just cross paths with someone who makes you believe in love. Parker Wilde brought out the best in me and understood the worst, but when an amazing opportunity presents itself and our lives take different directions, is being sweet on Wilde enough for us?"
I was super excited to read this book, simply because already the blurb really drew me in . And the book didn't disappoint.
The story between Savannah and Parker is sweet, heart-warming and feel-good. Yes, there are some itty bitty parts as well that will break your heart, but overall this is a story about finding love in unexpected places and when you least expect it.
I am never a fan of giving too much info of a book away, so I won't! The things I will tell you are the following:
The story will make you feel good and close the book with a smile on your face. I can't really describe it better, but while reading the story you just feel your heart swell with love for the characters and even shed a tear here and there. Fabiola knows when that happened for me, because I told her I was sitting in a train full of people when tears were in my eyes. But not because it was so terrible, but because there are moments in there that are simply heart-breaking and yet wonderful.
The characters Fabiola created are easily likeable as well. I mean, who doesn't know the feeling of not finding the right guy for you and slowly becoming desperate? I know I sure do. So Savannah was definitely easy to relate to for me. Also, the fact that she owned a bakery made me love her all the more. It just fit in the whole theme of sweetness for me. She's a passionate and dedicated woman that would do anything for the people she loved and would protect them with everything she had. I loved that about her. I loved how she cared about Parker, about her grandmother, but also about her store workers. And it hasn't always been easy for her in life. So the combination of her independence as well as her willingness to help others out sold me on her characters in only a few chapters.
As for Parker: I mean, Parker was just amazing. The cocky person he seemed to be in the beginning wasn't at all what he turned out to be. In truth, he's this charismatic, incredibly loyal and family-oriented guy that will make you swoon within a few pages. Seriously. He'd be a great catch for anyone out there, so if you are still looking for a guy by your side, maybe ask Fabiola to bake you one or so.
The chemistry between the two of them is definitely there, but more than the sexual tension I loved the sweetness with which they interacted. I know I'm saying sweet a lot in this review, but that's just what this book was, in the best way possible. Plus, it definitely fits with the title.
Fabiola's writing yet again made it really easy to get lost in the story and not wanna move away from it, which is one of the reasons why I really love reading her books. And will continue to do so!!
So, thank you Fabiola Francisco for letting me read this truly sweet and great book that I will always get out when I need something to clearly warm my heart.
4-book-boyfriends from me!!