Repaired by Melissa Collins
Liam Davis is a man without a past. That's what he wants everyone to believe, anyway. Hell-bent on erasing any memories of his previous life, he knows that starting over is all he can do. Hiding who he is, where he's from, why he's running, and especially who he's left behind, Liam has run away from everything he's ever known. His plan works perfectly until one day when Parker Ryan threatens to expose his carefully concealed world.
Parker Ryan is a man without a future. Sure, he's a partner in one of New York's most prestigious law firms, but he'll never be more than a failure in the eyes of his boss, his father. Rather than break away from his father's standards, he finds himself mindlessly pursuing them, in turn sacrificing anything that would actually make him happy.
When Liam's and Parker's lives collide, the ugly truth about who they really are, and who they hope to become reveals itself when they least expect it. As both of their lives become wrecked beyond all belief, they'll learn how to rely on each other in their journey to become Repaired.
"I never quite understood how who you loved made a difference in the person you were, but apparently there were people far less open-minded than me."
- Repaired by Melissa Collins
I absolutely love that quote because, well, it's true. It doesn't make a difference in a person, I think. Anyway, that said I'd like to dive into how I think Melissa Collins wrote a touching, heart-warming, steamy novel that didn't leave me wanting (but maybe panting...)
I won't deny it... She did a great job making me want to rush through the pages to find out how it ends. It's something good, especially since I actually paced myself to NOT rush through the pages. You know what I mean. In my mind that book wasn't supposed to end. Like ... ever. Parker and Liam have so much chemistry, it's crazy. It made me want to lose my tie just so I can breathe a little easier. I don't wear ties. Hell, I'm not even a man and boy, I was affected. Haha, a lot women love M/M I recently read. Yeah, I'm one of them.
This book had heart, which is what I think matters in a world where suddenly the most important thing in teasers and such is sex. Yeah, we had sex, and it was hot and sexy and amazing, but that's not ALL this is about. Those two guys struggle with who they want to be, who their surroundings want them to be and they are more than a little shaped by their past. For one of them it's a past that is hard to overcome. Boy, there were so many feels in this book! UGH!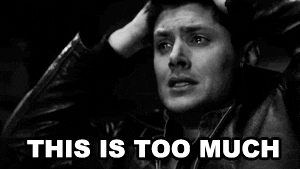 I am more than a little glad I bought this book and I swear, I will shove it into the faces of all the people I know and consider brilliant enough to see how epic this book is.
If you are into M/M (YES, TWO guys) you will not regret spending any money on that book. I'm so gonna put it on my shelf one day.
I look forward to read many many many many (many) more books by this lady. Simply great. This book gets 5 of 5 book-boyfriends!
(P.S.: Just for the fun of it one more quote I floved:
"No," I grumbled. "Just the same old shit." "Oh, you men more of him being right and more of you being stubborn?"
- Repaired by Melissa Collins )
(All images found on google and belonging to their respective owners.)